| | |
| --- | --- |
| Caerau Dragon Bowmen | |
Unfortunately we are unable to take part in the Golden Pass scheme
Caerau Dragon Bowmen
A local archery club in Barry, South Wales, formed in 2008.
We are looking to increase our membership and hope that the club will grow & be successful.
Archery - A sport for all the family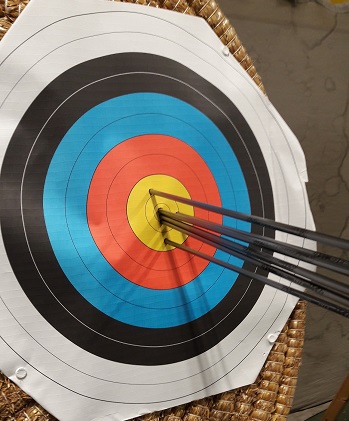 Archery is genuinely a sport for all. Perhaps you only want to join the club to shoot some arrows, or to meet with friends to relax and catch up. Or you may want to challenge yourself and see how far you can go. You never know until you try. You may just want to have a hobby that the whole family can participate in Mum, Dad and the children, you can all shoot. Archery is a great way to relax after a stressful day. Forget all your troubles or work out that built up anxiety from a day at work. It is a great way to get some exercise and fresh air when we shoot outdoors.
Why don't you come along and see what you think. We're a friendly lot.
Don't worry if you're not an archer. We offer courses including all the equipment that you will need to become as hooked on the sport as we are.
All Ages Welcome
Anybody aged from 10 to 100 years old is welcome (under 16's must be accompanied by an adult).
How far can you go?
How good can you get? County, Regional, National or even the next Olympics? We can help you with this by giving you the support and encouragement you need to keep going. We will help you achieve your ambitions and give you the opportunity to practice and find out where you can get the help you need to achieve your goals.
Outdoor Shooting
Outdoor shooting takes place from March to October weather permitting.
Tuesday 6.30pm to 8.30pm.
Friday 6.30pm to 8.30pm